6 Engaging STEAM Activities for Teachers to Prepare for Back to School
Posted by MAKEBLOCK ECOMMERCE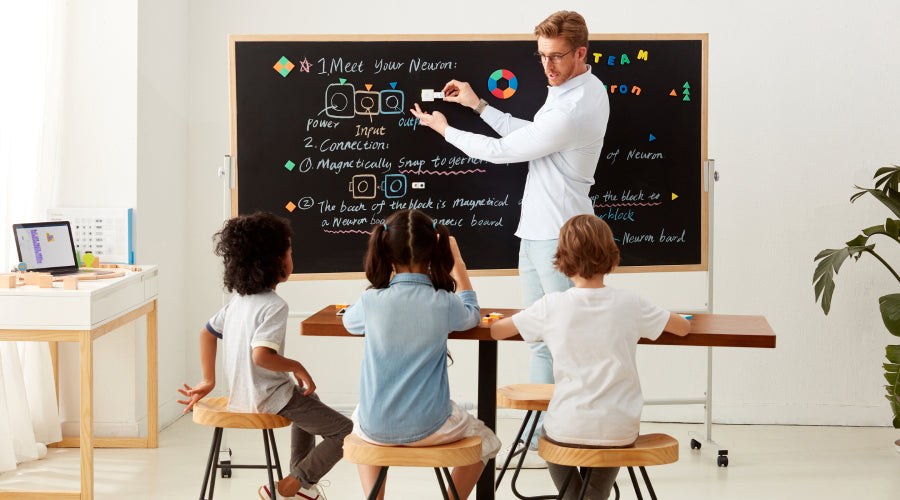 There is nothing better than STEAM activities to welcome students after vacations. It is an excellent idea to let students have fun and learn simultaneously with their classmates and teachers. For breaking the ice, engaging students, and bringing some joy, these activities are the best.
In this article, we have collected some exciting and innovative STEAM activities that teachers can try. Let's have a look at them in detail, but before that, we would like to discuss the importance of STEAM education.
STEAM education is quite essential for students as it helps them understand the concepts of science, technology, engineering, arts, and mathematics and apply them in real life. It compels students to think out of the box and enhances their ability to think critically.
They try new ideas, develop strategies, solve problems, and bring a solution. All these things build various skills in students that help in their mental growth.
STEAM education makes future innovators, critical thinkers, and problem solvers. It can shape the future of a country or nation. Students need to get STEAM education at an early age to learn new things and apply what they have learned in real life.
6 Engaging STEAM Activities Ideas for Teachers
We have picked up some exciting STEAM activities that will help teachers engage students and make their back-to-school days more enjoyable.
(1) Start Steam Activities Quickly with Software
Activity1: Make a Sprite Move on mBlock 5
It is the basic activity in which students will move characters on the screen through drag and drop coding on mBlock 5. The students can pick the character they like from the Sprite Library and move it. 
They will learn the coordinate system by positioning the character at different places. Secondly, they will learn the use of "if statements" through coding. It improves their decision-making skills, strategic thinking, and mental calculations.
The activity is simple and easy, and students can do it easily even after vacations.
Check out this step-by-step guide to moving a Sprite.
Activity2: Add Sounds and Costumes on mBlock 5
This is a bit more advanced version of Activity 1. It includes adding sounds and changing the costume of the selected sprite.
The students learn additional skills of sound characteristics and decision-making with it. They can also edit the costume or any character using the built-in tools. They will also enjoy creating and editing the costume of the characters. 
Here is the complete guide to adding sounds and costumes.
(2) Interesting Robotics Activities
Activity 3: Say "Hi" on Your First Day of Back to School
This activity is ideal for students on their first day back to school as it is the basic program to start with CyberPi.
The student needs to program CyberPi to say "Hi" when a certain button is pressed. It is pretty simple but full of knowledge. They will learn how to connect CyberPi with the PC and how to upload the program.
Check out this project guide here.
Activity 4: Robot Avoiding Obstacles
It could be the goal of many students when they start to learn to code. It will also help them revise everything and get ready for the upcoming tasks.
The students have to program mBot Neo to sense the obstacles and avoid them. The robot has a built-in ultrasonic sensor in it, and students will get to know about its working and how to use it. 
Here are the steps to make an obstacle-avoiding robot.
(3) STEAM Activities with Everyday Items
Activity 5: Marshmallow Challenge on Back to School Day
This activity is suitable for students of almost all ages and even adults. Many facilitators use this challenge to break the ice and help students master the skill of teamwork. 
Students will be given 20 spaghetti sticks, one-yard paper tape, a marshmallow, and one-yard thread. They will be distributed in groups, and the task is to make the tallest freestanding structure and place the marshmallow at the top. The structure should remain stable.
The students in a team will share their ideas, work together, and try their best to build the tallest structure. It is full of fun, thrill, and skills.
Activity 6: Making of a Volcano
The things that you need are an empty plastic bottle, orange food coloring, baking soda, vinegar, a funnel, and sand.
Place the bottle and create a mountain around it with the help of sand. Add one tablespoon of baking soda to the bottle. Add a few drops of food color to 2 cups of vinegar. Then, pour this vinegar into the bottle.
When you add vinegar, it reacts with baking soda. CO2 gas is produced, and it occupies the space in the bottle. Therefore, the liquid overflows. This group activity explains the reaction of baking soda and vinegar, and students also enjoy it. 
Collection 2019
Sale 70% Off
Title for image