Introducing Makeblock Neuron Artist Kit
Posted by VALENTINA PAN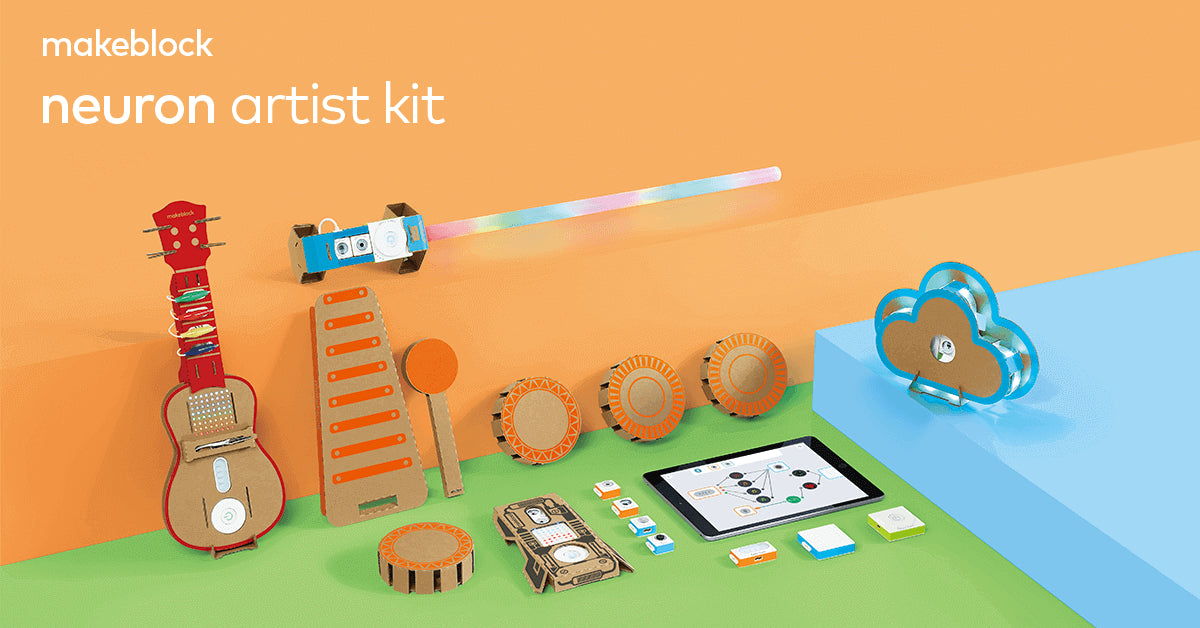 Makeblock is pleased to announce that Makeblock Neuron family has a new member: The Neuron Artist Kit, a set of programmable electronic blocks designed to help children develop coding and design skills through play. This new kit, in addition to its sound effects, pulsating colors, and cool programming features, includes two free companion programming software: the Neuron app (flow-based) and mBlock (based on Scratch 3.0). By combining hardware and coding, this educational toy lets children create artistic lets children create artistic projects and develop a passion for learning how to code like an artist!
Components of The Neuron Artist Kit
The Neuron Artist Kit includes 8 electronic blocks (sound sensor, led panel, ranging sensor and more) and 6 cardboard templates. With these materials, children can easily create a number of fun creations, like a ukulele, a xylophone, a cloud lantern, an infinity band, an LED sword, and a magical drum. Children can learn to code while getting an exciting, engaging and interactive experience. The cardboard models can also be purchased separately in order to fit your requirements for an educational toy.
The supporting software
The Neuron Artist Kit comes complete with the Neuron app and mBlock programming software. The Neuron app supports flow-based programming language so children can just drag blocks, tap icons and link nodes. Children can see the results of their code in the real world and quickly refine the code. With mBlock, a software based on Scratch 3.0, children can develop advanced skills. Since mBlock supports block-based programming language, children can easily program Neuron to create stories, games, and animations that are engaging.
How does the Neuron app work?
But what if children don't understand how to use a particular module straight away? Don't worry, the kit includes instruction cards which explain how each module works, how to program it and which interactive games can be played with it. The Neuron app also comes with built-in building guides and coding tutorials, and video guides for the sample projects. The six projects focus on the arts: users can make a xylophone that plays songs, a ukulele that can make different sounds, a magical drum that can be hit, and more. Children can follow the guides to create their own projects that are engaging and unique.
Is it suitable for beginners?
Since the eight electronic modules offer a variety of functions like lights, sound, etc., children can combine them into all sorts of new and interesting creations. The Neuron app and mBlock coding platform make programming a piece of cake. Getting started is easy, even for beginners who have no previous coding experience.
Makeblock Neuron fuses art and technology in one exciting, hands-on experience, it encourages children to unleash their creativity and teaches them to code at the same time. Come on and join us in the fun of creative coding! The kit is now available for purchase on Amazon.
Collection 2019
Sale 70% Off
Title for image