Review from the classroom: Makeblock Neuron Explorer Kit
Posted by VALENTINA PAN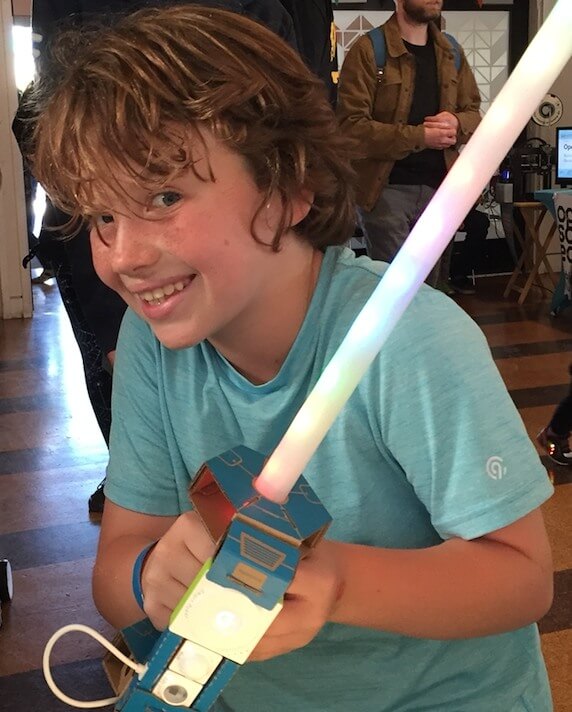 The below is a review of the Makeblock Neuron Explorer Kit from the point of view of the team at Code Hobbits, an organization that holds summer camps and after school classes in coding with five locations in the San Francisco Bay Area.
New robot toy – Makeblock Neuron Explorer Kit is an excellent educational package perfect for use in classrooms.
For those unfamiliar with the product, Makeblock Neuron is an electronics kit of magnetically snappable modules. Makeblock designs this kit to teach kids electronic prototyping, problem solving, and computational thinking. Each module is color-coded based upon its function — green for energy and communications, orange for input, and blue for output.
We got our hands on the new robot toy – Neuron Explorer Kit a couple of weeks ago. The box is beautiful and high quality. As soon as you open the kit, you notice how well organized and thoughtfully designed it is. You're welcomed with manuals in different languages to get you started and several snappable modules to get you building. Although our instructional staff felt inspired right away, we decided to hold off and bring the kit to one of our classrooms for testing.
Product Review
We challenged a classroom of 10 students to build predesignated activities included in the kit, while the instructional staff observed and occasionally helped out. Students open the box and explore with scared. Some students gravitated straight to the modules while other went for the instructions. Classroom instructors assisted the students in setting up Neuron companion app on an iPad to get them going.
Students walked-through step-by-step video instructions in the app without requesting any help. From the electronic guitar to the light saber, we had gadgets popping up in the classroom in no time. Students were clearly having fun and were able to finish every single build that comes included with the kit. But then, what do you do after you're done?
The true test of a building toy is whether students find creative ways to play with it once it's finished. Neuron Explorer Kit passed that test.
Robots for Kids
It would appear that Neuron, in addition to being an electronic kit, is also a full-featured programming tool. The programming environment for Neuron is Swift Playgrounds. Makeblock has created a learning module, Neuron Playground, that allows students to code in Swift with the Neuron Explorer Kit. The physical modules make it easy for young learners to 'see and touch' what they 'code' providing visual and tactile feedback that is otherwise not offered in software-only coding environments. All in all, students had a great time building with Neuron Explorer Kit.
The (Makeblock Neuron) Explorer Kit is a solid introduction to electronics, coding, and cardboard crafts. It's a well designed kit with high educational value, ideal for use in STEM classrooms. The Explorer Kit is currently sold exclusively through Apple Stores worldwide, online and offline. Learn more about the Makeblock Neuron Explorer kit on Makeblock's official blog.
…..Click here to see more stories about Makeblock and You
Collection 2019
Sale 70% Off
Title for image