7 Tips for Parents Who Want to Teach Their Kids to Code
Posted by VALENTINA PAN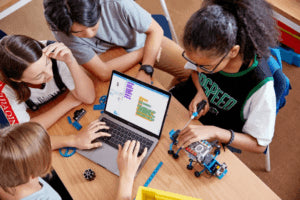 Why Should My Child Learn to Code?
If you're looking for a skill to teach your children that will benefit their present and their future, coding is an excellent option. Here are a few reasons why:
1. Coding can greatly expand their career choices. Technology and electronics both play a huge role in our everyday lives. When you teach kids to code, especially at a young age, they gain knowledge and skills that will help them be successful in these highly desirable and good-paying career fields. Without early exposure to coding, kids may be less prepared for or less likely to pursue fields like software programming.
2. Coding teaches important skills. Even if kids ultimately choose to pursue a career that doesn't directly require coding, the skills they develop, like logical thinking and problem solving, will make them desirable candidates for almost any job. With their critical thinking and creativity, they'll also find themselves better able to solve everyday problems.
3. Coding is a language. It's a way of communicating with a computer, just like words are the way we communicate with each other. Children start making sounds and responding to loved ones only a few months after birth. In fact, it's much easier for kids to learn a second language when they're young. So, it's best to start early to teach your kids to code!
If you want to know detailed guidance, here is the ultimate guidance for parents to help their kids to learn to code.
7 Tips for Parents Who Want to Teach Their Kids to Code
1. Start Slow
You can start teaching kids how to code when they're as young as five years old, but don't expect them to quickly pick up advanced coding languages and computer programming. It's important to understand that the process will take time and a lot of patience. If you try to engage kids with coding, you also shouldn't worry if they aren't interested right away. Try a different approach, or wait a month and try again.
Don't replace all their current toys with coding ones, either. "Start slow" means teaching kids to code over time, not overwhelming them all at once. This helps kids get used to the idea of coding and encourages them to learn and grow at their own pace.
2. Make Learning Fun, Not Just Educational

Think back to how your kids learned their first language. Were you doing drills and flash cards when they were six months old? Of course not! Your kids learned language through stories and rhymes and games. Coding isn't any different. To teach kids to code and engage them, avoid having them just write lines of increasingly complex code. Make coding fun by incorporating games. If they enjoy coding, they're likely to keep their interest, learn more easily, and be open to challenges. If coding starts to feel too much like an educational task, they're likely to lose their interest or get frustrated.
3. Use Age-Appropriate Coding Programs

Your five-year-old isn't going to be able to solve a calculus problem or read Shakespeare, so don't expect him or her to start coding in C++. Scratch is a great first language for early coders. It has a simple interface and drag-and-drop functionality, and coding errors are impossible to make because commands that don't work together won't fit together. Are you ready to teach your kids to code with Scratch? Here are Five Things to Know to Help You Get Started with Scratch 3.0!
When your kids get older or frustrated with the limitations in Scratch, Python is a great coding language to use next. It will let them make more sophisticated programs, but still isn't quite as advanced as other coding languages. It's a great stepping stone, though, and its use is prevalent in numerous industries. Here are Five Reasons that Python Programming Is Perfect for Kids.
4. Incorporate Coding Games and Apps

The Internet has tons of resources, so use it to your advantage when teaching kids to code. It's a great resource for finding interactive coding games and apps that can keep your kids having fun while they learn how to code. These can be especially beneficial for young kids who aren't ready yet for lines of code; instead, they use simple graphics and animations.
Makeblock has compiled and explained the Top 9 Coding Apps for Kids and the Top 9 Online Coding Games for kids. We even tell you which ages the apps and games are best suited for, so you can find one that's perfect for your child's experience and abilities.
5. Make Coding Tangible
Yes, lots of coding takes place on a computer screen, and, yes, lots of coding resources are on the computer and Internet, too. This can be a positive because of how easily accessible coding information, programs, apps, and games can be. But it can also be a negative. Young kids especially might be easily engaged by colorful patterns on a screen, but they may not fully grasp coding if they never seem to be able to fully engage with it.
However, you can make coding tangible, and this is an effective way to teach kids to code. The best way to bring coding to life for your kids is to use robotics kits. Suddenly, coding will become more hands-on as kids write code that moves robots around their own homes, not just around a computer screen. They see the connection between the coding language they're learning and how they can manipulate a robot. Here's our list of the Top 10 STEAM Robotics Kits for Kids.
6. Use Code Academies, Online Courses, and/or Tutors
If you find that your kids have questions you can't answer anymore, or that they would benefit from a more structured environment, then it's probably time to look for academies, courses, and tutors that specialize in coding for kids. Experts know the best way to capitalize on your kids' strengths while helping them with their weaknesses.
Some of these are available for kids to take online, but others will be in person, so kids will be able to work with instructors and other kids as they learn. They'll increase their skills in communication and collaboration as they work in a learning environment best suited to help them learn to code.
7. Bottom Line: Don't Push It
There are a lot of benefits to coding, but it's important not to force it on your kids. You probably want to teach your kids to code because you know that it will build their knowledge and skills and future opportunities, but if learning to code is your choice, not theirs, then coding probably won't be much fun for them. In fact, it could cause them to dislike or avoid coding altogether.
By all means, if your kids are interested in coding, then provide them with resources and steer them in the right direction. If they just don't seem to like it, maybe they aren't ready yet, or they need a more subtle introduction through gaming. But don't push too hard in either case, or you may end up with kids who won't code at all.
At Makeblock, we believe coding for kids is important. That's why we have the information and resources you need to teach your kids to code and prepare them for their futures. We'll also help you engage your kids and make sure they're having fun! Visit Makeblock official website to learn more.
Collection 2019
Sale 70% Off
Title for image