STEAM Activities and Projects for Kids
Posted by VALENTINA PAN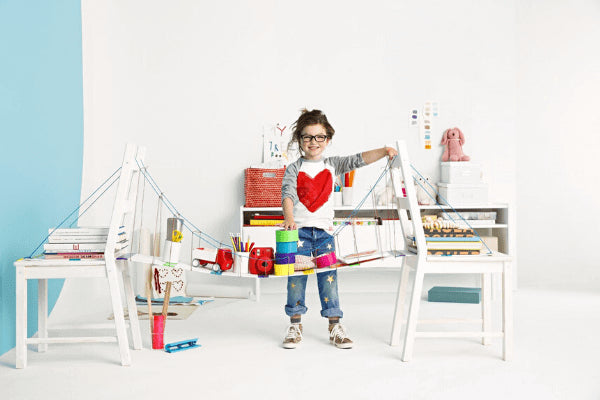 Importance of STEAM
You've likely heard of STEAM, a trend that's starting to become a standard part of the educational curriculum around the world. STEAM stands for Science, Technology, Engineering, Arts, and Math, but it's not just about the content of these subjects. STEAM is an approach to teaching kids creativity, collaboration and problem-solving skills that will help them in the real world.
If you're looking to incorporate STEAM, you've come to the right place. Makeblock is all about providing the tools and resources you need to help kids learn skills they'll use forever. Keep reading for some easy STEAM activities.
Three Easy STEAM Projects
1. Amazing Flextangles
Want to create an interactive fidget toy that's a great example of a STEAM art activity? The Flextangle is your answer. It combines art with mathematics and encourages kids to be creative and think critically while they design their own interactive paper toy.
Making a Flextangle is pretty easy with the right directions and supplies. You need some basic craft items like cardstock, markers, scissors, and glue, as well as the printable template and instructions. Kids will love experimenting with patterns and colors as they create their own designs on the template. They can also incorporate knowledge about geometric shapes, like types of polygons.
When kids start to cut, fold, and glue their Flextangle together, the STEAM project really comes alive. They'll start to think about three-dimensional shapes and patterns, and they'll likely have to do a little problem-solving, too, to work through any small issues, like not creasing the paper enough or using too much glue. The end product is something kids will use and be proud of!
2. Tiny Dancers
Tiny Dancers are another example of a STEAM art project. They are a combination of a wire sculpture and a homopolar motor, one of the easiest DIY motors to make. Kids will use their creativity and learn about electricity and magnetism.
Supplies for this project are pretty easy to obtain, but they do include Neodymium Disc Magnets, which deserve a word of caution: they're really strong and should be kept away from young children who might swallow them. You can find detailed instructions, materials, and the template here.
Basic construction involves placing three magnets on the negative side of the battery and creating a motor out of copper wire. The wire should touch the positive pole and wrap around the batteries at the bottom. Complete the STEAM activity by letting go and watching the wire spin! Prepare to encourage kids to be innovative and persistent with their wire so they can get it to successfully "dance."
3. Square Bubbles
If you have straws, pipe cleaners, and bubble solution, you're ready to get started on an easy STEAM project to make bubble shapes. With some basic manipulation of the straws and pipe cleaners, kids can make 3D bubble wands that hold bubble solution in some pretty neat forms, similar to tensile structures. Kids can also wave the wands to create bubbles that aren't the typical sphere.
The great part of this STEAM activity for kids is that, even though the directions include a pyramid and a cube, the options to create wands out of pipe cleaners and straws are only as endless as each kid's imagination. Let them go wild and experiment with structures, using their problem-solving skills and innovative ideas to construct amazing designs.
Three STEAM Activities for Kids with Makeblock STEAM Robots
Makeblock's mBot robot lets kids get creative with their logical thinking and design skills. It's a beginner robot that teaches programming and hands-on building, allowing kids to be innovative as they use their hands and their brains.
Because of mBot's versatility, there are several neat STEAM activities kids can complete to go along with it. These activities challenge creativity and problem-solving, and they allow kids to collaborate with each other as they complete these projects with their robots.
1. Obstacle Detection and Avoidance
The mBot has a setting for obstacle detection and avoidance. This lets kids practice programming the robot so it can sense an obstacle ahead and change its path in time to avoid it. And it's relatively simple with block-based programming, so kids can drag, drop, and combine command blocks. Here's how it works.
2. Dancing Robot for a Party at Bedtime
Add-on packs for mBot allow kids to explore even more. The interactive light and sound kit adds two light sensors and a sound sensor to mBot, turning it into a Light-Chasing Robot and creating a full sensory STEAM project for kids. When the light sensor on the left is brighter, mBot will move left; the same works on the right. With no difference in the intensity of the lights, mBot goes straight. At bedtime, kids can turn off the lights and watch their programmed robot dance to its lights.
3. Object Follower Robot
Another STEAM project with the mBot involves adding the Pixy component, plus a few other parts, to create a robot that can follow objects. This allows kids to identify a set object and hook up the mBot to recognize it and follow it. After uploading the proper code, kids can have fun moving the object around and watching their mBot move in all directions to keep up with it. Watch this video for a full tutorial on how to complete this engaging engineering activity.
STEAM Activity and Project Tips
1. Preparation is Important
Before you ask kids to complete a STEAM project, you should be familiar with it yourself. Even easy STEAM activities for kids require some preparation. It's a good idea to do the project ahead of time so you can identify any issues, large or small, and you can provide the proper guidance and motivation. Plus, you may realize that with the time or resources you have, it would be best to prepare a few items in advance.
2. Encourage Students to Learn in Groups
Communication and collaboration are important lifelong skills that students can learn while completing STEAM activities. Not only will students benefit from enhancing their ability to work with others, they can also learn from each other while completing their projects. Think about how you can pair students with certain strengths or weaknesses so they complement each other.
3. Think About the Equipment You'll Provide
Yes, you should make sure you have all the necessary tools before giving kids a STEAM project to complete. But have you considered that changing up the tools you offer could make an activity harder or easier? If you're looking to engage students in critical thinking, provide a variety of tools so they can learn through trial and error which ones work best.
4. Provide Opportunities for Further Exploration
It's great to engage kids in STEAM learning, but if they're particularly passionate about what you've taught them, don't let their learning end when the STEAM activity does. Offer ways for them to continue to experiment and tinker, or even create something new. This innovative mindset is one of the most basic principles of STEAM!
Makeblock believes that STEAM activities and projects for kids provide them with unlimited potential for their futures. Plus, they're fun, creative, and engaging. Visit our website to learn more.
Collection 2019
Sale 70% Off
Title for image