Silicon Valley's Code Hobbits visit Makeblock to Learn How to Build Tech Products
Posted by VALENTINA PAN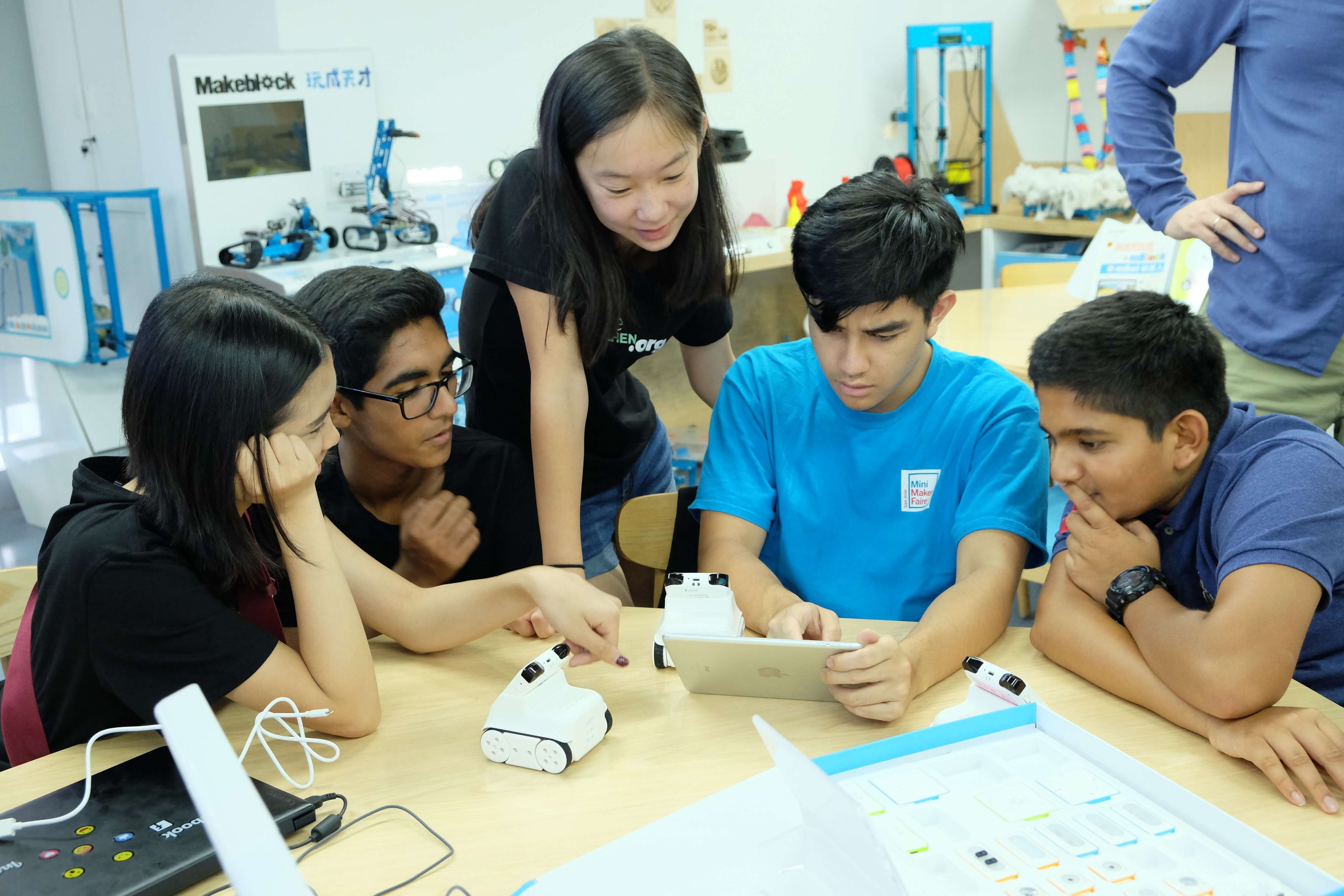 Coding robot | The Makeblock headquarters in Shenzhen recently had an inspiring group of visitors in the form of Code Hobbits students enrolled in the Launchpad program. Initiated by Innovate Shenzhen, an organization that aims to introduce foreign makers and companies to the region's hardware ecosystem, the trip finished off the Innovation Bootcamp, a summer course that supports students in learning both hardware and software, with the goal of eventually launching their own Kickstarter projects.
"My first trip to Shenzhen was incredible. My first visit to Makeblock was amazing and a great experience. When I went there, I got to check out all of the cool products at coding robot company Makeblock and even got to build my own robot. That was the most fun in my opinion. Then I got my age perfectly guessed by a robot, which was super cool. Then we had to leave, and I ended up finishing my robot, using it in my picture! Makeblock was extraordinary, and I am happy to be privileged to have went there" — Ariv, Code Hobbits student
Founded by Marank Malik, a Silicon Valley industry veteran who works at Stanford University, in 2010, Code Hobbits has distinguished itself with transformative teaching and learning programs for children and teenagers. By combining coding, art, science, engineering, and entrepreneurship and working with incredibly talented engineers, musicians, artists, and educators, they help students invent, rethink, and create.
Core to their teaching is software and hardware products that align with their education philosophy and values. One such product is the mBot, coding robot company Makeblock's entry-level robot for students who want to program electronics using Arduino, an electrical engineering prototyping platform. To date, the organization has reached over a thousand located in and around Silicon Valley.
During the visit to Makeblock's Shenzhen headquarters, we introduced the students to our full range of hardware and software products, including mBot, our DIY platform, Makeblock Neuron, Codey Rocky, and their combined capabilities:
"During the Shenzhen bootcamp I got the opportunity to go to coding robot company Makeblock HQ, a robotics education company. They hosted us in a room full of robots, which is a room that can only be described as paradise for robot lovers. They had incredible products in there — from robots to go karts, from 3D printers to programmable dogs, you could make anything you imagine. My personal favorite was the drone. The drone was completely modular with the body made of styrofoam and magnets. You could take the drone apart and reshape it into cool new shapes. One of the members of the Makeblock team took apart the drone and turned it into a hover car by rearranging where the propellers were facing. I thought that was super cool.  I would like to thank Makeblock for showing us around their headquarters and to Code Hobbits for creating this opportunity for us. I had the time of my life." – Kintien, Code Hobbits student
Over the past few years Code Hobbits students have produced proof of concepts for products including smart backpacks with built-in GPS, programmable light-painting gloves, motion-tracking watches, internet-connected LED-enabled umbrellas, and headphones that convert sound to light. At Makeblock, we delight in seeing the natural creativity of young people enabled by educators such as Code Hobbits and initiatives like Innovate Shenzhen, and look forward to building more bridges between the Silicon Valley in the Bay Area and our own here in Shenzhen.
…..Click here to see more stories about Makeblock and You
Collection 2019
Sale 70% Off
Title for image