A Programmable Electronic Building Block Platform for IoT and AI
Posted by VALENTINA PAN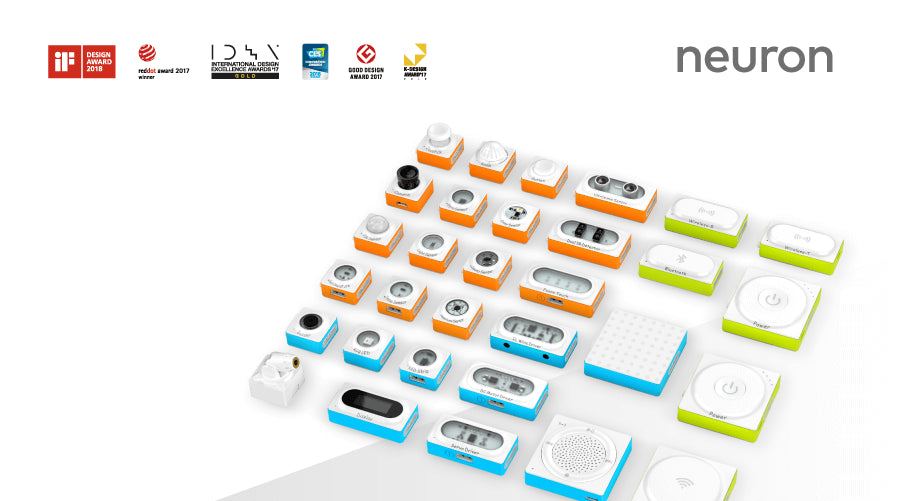 A Programmable Electronic Building Block Platform for IoT and AI
– Makeblock launched the Neuron Creative Lab Kit 
SHENZHEN, China, May 21, 2018 — Makeblock, a global leading STEAM education solution provider, recently launched Creative Lab Kit, the latest version of its Neuron programmable electronic building block platform, to promote IoT and AI education.
Makeblock Neuron is a programmable electronic building block platform designed for STEAM education. The latest kit offers the most powerful features and the widest variety of blocks among the Neuron series. It has 30 different electronic blocks with over 100 possible interaction effects.
The kit not only supports programming software such as Neuron App and mBlock5 but also brings the latest technologies such as AI, IoT and Google Deep Learning into everyday life. It helps build Maker Space among schools, develop intelligent programming in classrooms and guide STEAM education towards standardization and systemization.
Since the launch in 2017, Makeblock Neuron has pocketed 7 international awards with worldwide recognition and applauds, such as the 2018 Gold Edison Award, 2018 CES Design Award, 2018 German iF Product Design Award, 2018 German Red Dot Award, 2017 U.S. IDEA Gold Award, 2017 Japan's Good Design Award and 2017 Korea's K-Design Award.
Up to today, Makeblock Neuron has launched 2 kits: Inventor Kit and Creative Lab Kit. Each individual block is available to order at www.makeblock.com. Creative Lab offers 20 more electronic blocks, covering acoustic, optical and dynamic interaction modes with modular design, patent magnetic connections, colorful appearance and durableness.
Creative Lab supports online and offline programming. Teachers may choose from Neuron App, an easy-to-use programming software to mBlock5, a block-based or a text-based programming software, meeting the needs of students of different age groups.
Jasen Wang, founder and CEO of Makeblock, says, "Makeblock wishes to provide schools and teachers with more standardized, systematic, comprehensive and advanced STEAM solutions and to facilitate STEAM in China. We are bringing programming, maker spirit and robot education into more and more schools to help students enjoy the course of innovation."
Makeblock Creative Lab will be customized for schools and teachers to deliver tailored STEAM curriculums. With customized and differentiated STEAM solutions, teachers have more assembly options regarding block types and quantities, bringing various combinations for different classroom requirements. Makeblock offers over 20 inspiring teaching cases, encouraging teachers in innovation and guiding them through STEAM pedagogy explorations.
To order your Neuron Creative Lab, please check it on Makeblock website
Collection 2019
Sale 70% Off
Title for image