IE University Vice-President, CUHK Dean Visited Makeblock's Headquarter in Shenzhen, Exchanging Innovations in Edtech
Posted by VALENTINA PAN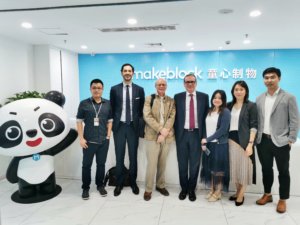 Nov 27th, Vice-president for External Relations of IE university Gonzalo Garland, Regional Director of IE Greater China Office Alex Buriel and Senior Associate Dean of CUHK Michael J. Ferguson visited Makeblock's headquarter in Shenzhen. By discussing STEAM education and the development of the Chinese technology industry, Makeblock, IE University and CUHK exchanged observations in education status quo and shared interests in exploring cooperative opportunities.
Through the short tour, Makeblock showed around the exhibition room and introduced major products including mTiny, Codey Rocky, mBot, and newly released mCreate and Laserbox and showcased the key features and highlights in front of the distinguished guests. From learning to code, starting to make something, to unleashing the creativity, Makeblock demonstrated its educational methodology and brand concept in accord with the learning curve of kids. MakeX, the robotics competition, is the final stop where students can eventually pull out everything they learn about coding into practice and teamwork.
Mr. Gonzalo Garland from IE university felt overwhelmed by the exhibited robots and STEAM ecosystem Makeblock is building. He gave high evaluations to Makeblock and the products. "Makeblock is a STEAM education start-up with high potential, and we are looking forward to possible cooperation in the future." Mr. Garland said.
About Makeblock
Makeblock Co., Ltd, founded in 2013, is a Global STEAM education solution provider. Targeting the STEAM education and entertainment markets for schools, educational institutions and families, Makeblock provides the most complete hardware, software, content solutions, and top-notch robotics competitions, to achieve deep integration of technology and education. To learn more, please follow @Makeblock on Facebook, Twitter, or visit www.makeblock.com.
Collection 2019
Sale 70% Off
Title for image