Makeblock Kickstarts Smart Robot Codey Rocky for Beginner Coding and AI Learning
Posted by VALENTINA PAN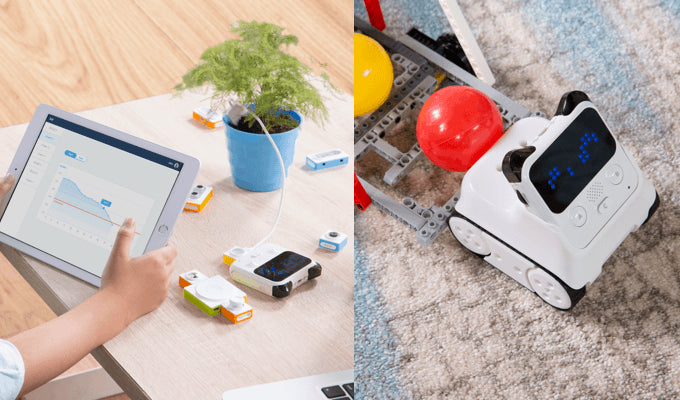 From voice recognition to infrared TV controls, Codey Rocky users gain first familiarity with Artificial Intelligence and Internet of Things.   NYC, New York, Nov. 28, 2017—Makeblock, the world leading STEAM education solution provider, today launched its latest smart robot – Codey Rocky on Kickstarter. Integrated with cutting-edge technologies like AI and IoT, Codey Rocky is the perfect affordable programmable robot for beginner coders aged 6+, offering a great way to introduce children to the basics of programming like Scratch 3.0, Python and STEAM – Science, Technology, Engineering, Arts and Mathematics.
Codey Rocky is the Smart Robot for Beginner Coding and AI Learning
Codey Rocky is the entry-level robot that can be coded and controlled via using the graphical programming app mblock 5. The Codey Rocky set comes with a detachable programming console named Codey and an add-on car named Rocky that takes Codey around. Codey Rocky is integrated with graphical programming software, AI and IoT technologies and more than 10 programmable electronic modules (built-in LED display, volume and light sensors, speakers, infrared receivers and emitters, and a six-axis gyroscope etc.). Users can also choose to code Codey Rocky via more advanced Python –the most popular language in the age of AI on mblock 5.
"It's widely known these days that learning to code in early year is essential, we are very excited to offer Codey Rocky, the perfect robot that's easy for beginner coders to adopt and start to get a sense of technologies like AI, IoT, regardless of their level of coding experience," Said Jasen Wang, founder & CEO of Makeblock," Coding doesn't have to be hard and boring, Codey Rocky is a very special robot and it's an important step in our mission to make coding fun & accessible to all."
Key features of Codey Rocky include —
Expressive LED Display: 

Code to customize expression, show time and weather, and personal messages on Codey's 16×8 LED display.

10+ Programmable Electronic Modules:

With more than 10 programmable electronic modules, Codey Rocky can be programmed to perform a wide range of fun effects and functions.

Graphical Programming:

Codey Rocky teaches coding through its controls via the drag-and-drag visual programming app mblock 5.

Python support:

Users can convert their graphical codes to the Python language with one click and begin writing advanced codes.

AI and IoT Integrated:

Features like AI and IoT extend the possibilities of functions to implement with Codey Rocky.

Expandable and Easy-to-build: 

Codey Rocky is compatible with LEGO® bricks, allowing users to build upon Codey Rocky and unlock more AI potential.

Durable and wireless: 

Fully integrated in a compact, durable shell, Codey Rocky is portable and easy to bring & use anywhere.

Continuously updated learning resources:

More than 20 learning guides are provided for getting started with graphical programming and Python. Programming resources and teaching videos are continuously updated.
The Codey Rocky Kickstarter campaign runs on November 28, 2017. Early backers receive early bird $69 (without Bluetooth dongle) and $79 (with Bluetooth dongle) pricing (30% off of MSRP price). The basic pack includes 1 Codey, 1 Rocky and 1 Bluetooth dongle. Additional educational discounts will be available for family, classroom, after-class packs of 2, 6 and 12 sets.
About Makeblock
Makeblock Co., Ltd, founded in 2013, is a world leading STEAM education solution provider. Makeblock offers easy-to-use programmable robot kits, electronic building block platform, DIY robotics construction platform, graphical programming apps and courses to inspire children of today to unleash their potential and creativity for a better world tomorrow. To date, Makeblock's award-winning products have been widely used in the classrooms and in the homes in over 140 countries and regions globally. For more information, follow @Makeblock on Facebook @Makeblock on Twitter or visit https://www.makeblock.com.
Collection 2019
Sale 70% Off
Title for image