Makeblock Wins CES 2018 Innovation Award
Posted by VALENTINA PAN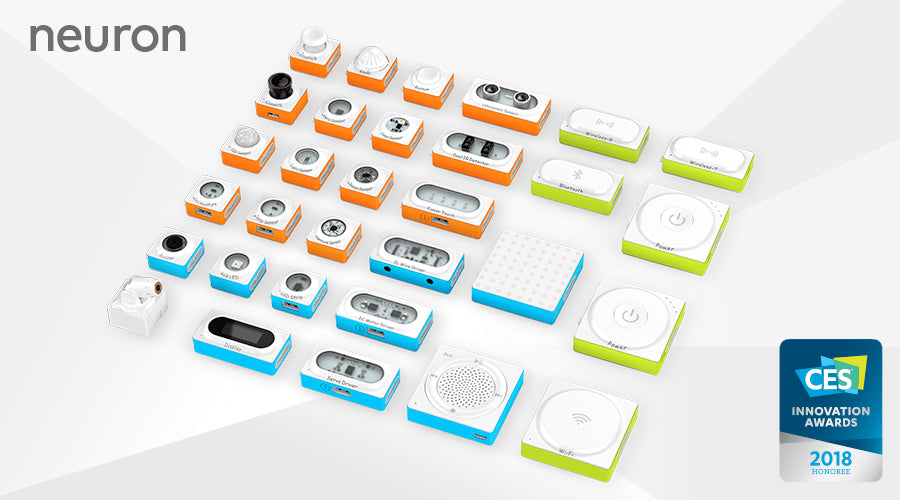 Makeblock, the leading STEM education solution provider, announced it won the CES 2018 Innovation Award for Makeblock Neuron. This is the fifth time Makeblock Neuron won an internationally prestigious product award, marking world-wide recognition of Makeblock's outstanding innovation capabilities.
Makeblock Neuron 2018 CES Innovation Awards Honoree
The CES Innovation Awards Honoree in the "Tech for a Better World" category Makeblock Neuron is a programmable electronic building block platform for STEM education. It contains more than 30 kinds of blocks with different functions: power, communication, sensor, LED panel, motor, etc.; users can snap blocks together quickly using Pogo Pinfor out-of-the-box creation.
The product has innovative features and cutting-edge technology – Gadgets including the IoT Pet Feeder, Virtual Gardening Set and Smart Door can be built, allowing users to have fun whilst playing a useful part in their life.
"It is a great honor to be named as a CES Innovation Awards Honoree by the CTA," said founder & CEO of Makeblock, Jasen Wang. "Makeblock has always prided itself in endeavors to create the best innovative products leading education in future. We see this as recognition of Makeblock's increasingly advanced R&D capabilities, and an acknowledgment of products 'Designed in China '."
In addition to displaying Makeblock Neuron at the "Innovation Awards Showcase" CES 2018, Makeblock will showcase its rich arrays of STEM education products including Makeblock Neuron at CES 2018, which runs January 9-12, 2018, in Las Vegas, Nevada.
Prior to the CES Innovation Award, Makeblock Neuron has won 4 internationally acclaimed industry design awards–Germany's Red Dot Product Design Award, America's IDEA Gold Award, Korea's K-Design Gold Award and Japan's G-Mark Award, receiving props in the tech industry. The Makeblock Neuron Inventor Kit will be available in retail globally by the end of November, 2017.
About Makeblock
Makeblock Co., Ltd, founded in 2013, is a leading STEM education solution provider. Makeblock offers easy-to-use programmable robot kits, electronic building block platform, DIY robotics construction platform, graphical programming apps and courses to inspire children of today to unleash their potential and creativity for a better world tomorrow. To date, Makeblock's products have been widely used in the classrooms and in the homes in over 140 countries and regions globally.
For more information, follow @Makeblock on Facebook, @Makeblock on Twitter or visit https://www.makeblock.com.
Collection 2019
Sale 70% Off
Title for image