3D Printers for Kids & STEAM Education
Posted by VALENTINA PAN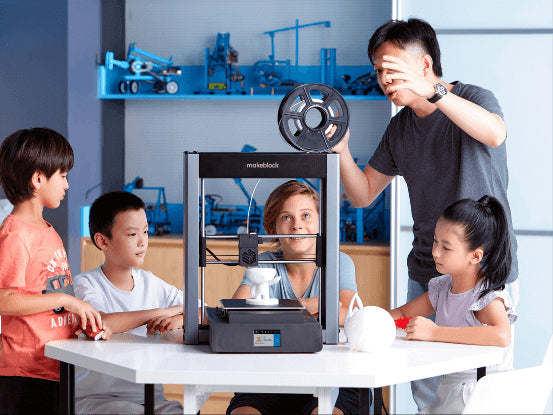 What is 3D printing?
If you've been trying to keep up with trends in technology, you've probably heard of 3D printing. It's a process that allows three dimensional objects to be printed using a special machine. It uses a process called additive printing to create an object out of printed layers of a material, like plastic. You can think of it as the opposite of subtractive manufacturing, which is when an object is cut out of a material.
3D printing has a lot of unique uses in science, engineering, and even healthcare. It's also becoming a popular and effective way to incorporate STEAM education in schools. There are some great 3D printers for kids that engage them in STEAM skills and content.
3D Printing for Kids: The Process
Helping kids get started with 3D printers for education, whether at home or school, is easier if you have a process you can walk them through. A process can help them feel more comfortable with 3D printing,  introduces them to the steps of problem-solving, and engages them in innovative thinking.
1. Identify a problem
Almost every design process starts with a problem that needs to be solved. Help kids determine what problems they have that could be solved through 3D printing. For example, is there an object they have a need for? This could be as simple as wanting a new trinket, or as complex as needing to build a replacement part for a toy or household item. For a class at school, you might even define the problem for them, such as needing to design a keychain of the school's mascot that doesn't use a lot of material.
2. Research
This step doesn't need to take a long time, but can save kids some frustrations as they move forward with their 3D printing. Research can involve finding a model of the item or making sure they know what elements the object would need to work properly.
3. Imagine and plan
Now that there's a clear problem to solve and kids have done some research about what the design should look like, it's time for them to plan out their 3D printed object. The planning phase works best just with pencil and paper, where elements of the ideal object can be sketched, erased, and redrawn as needed until it fulfills what your kids imagined.
4. Create in 3D
Once kids have finalized their design idea, it's time to actually create it using 3D software. A lot of teaching and learning and trial and error can take place at this step of the 3D printing process. Especially when using 3D printers for kids, you might need to walk them through small steps to successfully using a 3D printing program.
5. Testing the print
Few things work right the first time. The design could look great in the 3D program, but be a little flimsy or bulky when actually printed. That's why testing the print is important. When using 3D printers in schools, this is an excellent opportunity for teaching critical thinking skills when the design isn't perfect right away. It encourages kids to test their design and then make improvements before declaring they've successfully solved their initial problem.
Benefits of 3D Printers in the Classroom
There are quite a few benefits of 3D printers for education. First, they're a great way to engage students in active, hands-on learning. They real-world STEAM skills like critical thinking, problem-solving, creativity, and innovation. Students can work together as they expand their imaginative thinking and teamwork skills.
3D printers for schools can also help teach curriculum. A lot of students struggle with abstract concepts, but 3D printing provides visual models that can help students learn these more difficult ideas. They can also supplement the curriculums of almost any school subject. For example, history students can create models of historical artifacts and language arts students can print objects that represent symbols from their readings.
How 3D Printing Fuels STEAM Education
1. Science
Being able to 3D print products for science helps students grasp material. A great example is when trying to teach geology concepts, like how landforms are created. If students research concepts such as erosion, deposition, and weathering, then they can use 3D printers to create models of rivers or mountains. It reinforces science material in a way that lets students explore concepts to their fullest.
2. Technology
Technology is a huge part of today's society, and anytime students get to link their learning with something they use everyday, they are more engaged and ready to learn. With 3D printers for schools, students use technology every time they create and print something. But there are other technology applications for 3D printing, too. For example, students can create and print their own cell phone cases. It's captivating and exciting for students to make something they can use everyday.
3. Engineering
One of the best ways to incorporate engineering into curriculum is to use a lot of project-based learning. 3D printers for education provide an easy and cost-effective way to students to practice the steps of the design process: test their ideas, have the freedom to make mistakes, fix design issues, and complete multiple trials. They also let schools expand engineering curriculum to include design and computer-based skills.
4. Art and Design
3D printing is not much different from art, especially if you compare it to other three dimensional art forms like sculpture or clay. But in the world of art and design, 3D printers have been used to push boundaries in fashion and graphic design. It's even extended into the field of music, with students tasked with designing and printing working instruments.
5. Math
Concepts in mathematics can become pretty complex. When students struggle to understand a new idea with just a diagram, say on a worksheet or white board, 3D printing can really help. It's easier for students to grasp 3D concepts if they can see a 3D model, or better yet, design one themselves.
Introducing Makeblock mCreate
The Makeblock mCreate is a great solution for 3D printing for kids. It's meant to fit on a desktop and has features that make it easy to use, accurate when printing, and versatile. mCreate has Genius Smart Leveling to help the first layer of material adhere to the build plate, which is important as additional layers are added. Its nozzle helps guarantee a better and steadier print, and the flexible magnetic build plate supports a wide variety of materials and allows them to be easily removed.
The mCreate has added functionality beyond 3D printing. It can also turn into a laser engraver that works on many materials including paper, wood board, leather, fabric, and plastic, and that could even be used to create designs on food materials like chocolate.
With all of its features, the Makeblock mCreate supports STEAM education for kids. They can use the mBuild modules to create parts for robot design while they enhance their creative thinking and hands-on skills. mCreate helps teachers make abstract 3D concepts more concrete for students, which especially builds students' spatial intelligence. Students who participate in robot competitions and maker events will find mCreate particularly helpful. Plus, all the skills students develop with 3D printing for kids prepares them for their future careers.
Makeblock cares about student potential, and that's why we provide solutions for 3D printing for education. With the right resources, kids can have all the skills they need to be successful. Visit our website to learn more.
Collection 2019
Sale 70% Off
Title for image