5 Best STEM Toys For Your Kids for CHRISTMAS in 2021
Posted by MAKEBLOCK ECOMMERCE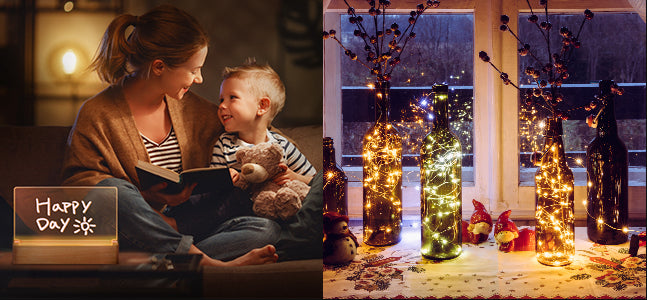 "I love you more than I can say" about your children's future? Too busy to be involved in your children's development? Want to do something for your kids but don't know where to start? Christmas is going to be a big test for busy parents.
For children, companionship and support are vital. Parents should do both in their daily lives, but if they can't, they shouldn't be absent during the holidays. As Christmas approaches, have you decided what to buy for your children to make them happy?
In my work with children, I find that most children need toys that inspire and accompany them. The products produced by Makeblock can well meet these needs so that both parents and children are satisfied not only at Christmas but also in daily life. There are five of the most creative holiday gifts to make dreams come alive from the twilight.
Haven't thought about Christmas lighting yet? Choose xLight and let your child be the master of the family light show this year!
Easy to understand operations will give the young inventor more control over colorful lighting configurations. A variety of controls (APP, Gestures, etc.) will make the home atmosphere more relaxed and fun.
Powerful programming capabilities will make future owners better off from now on. Have xlight, every year since the beginning of the year, will be unique.
Want to improve your child's thinking skills but don't know where to start? It's time to send this sincere gift at Christmas!
mBot Neo is an innovative and easy-to-build robot powered by Cyber PI that will inspire children to learn, grow and play in unlimited ways.

Boys and girls can enter the world of CS and technology learning with precise motion control with encoder motors, expandable mBuild modules and structural components combined in a unique programmable design. 
Don't know where to open up your children's innovative world? Order a NextMaker for a real Next Maker starting this Christmas!
This box combines the best of online programming lessons with a hands-on STEAM kit for kids. With fun STEM projects to learn to code at home, engaging build projects and self-paced online coding lessons, this subscription will unleash the creativity of your 6-12 year old and empower them with the skills of the future - new creations, new imaginations. Subscribe to monthly fun to make programming a real and fun experience for kids!
If you have small children, why not start a puzzle game with mTiny?
This cute and versatile early learning robot will be your child's most comprehensive heuristic guide in the field of brain development. 
mTiny's varied appearance and sound effects will fill families with laughter. With the help of mTiny, little inventors will use a series of coding games at different levels to discover and learn cross-curricular content to gain curiosity about knowledge.
Children explore, design, perform and play with mTiny and friends through various play and learning methods.
If your child wants to become the most creative master coder, give him a hand with Mbot Mega! The kit is perfect for Arduino beginners or professionals learning robotics, electronics, and programming.
Equipped with the 4WD McNum Wheel and Makeblock app, each movement options are unlimited in any direction. Based on the Mega AT2560, with solid motor drive capability, up to 10 steering motors, 8 DC motors, or four stepper motors can be connected simultaneously.
Robot supports Arduino IDE, Scratch and has detailed construction guides and more than 20 online projects. This will be the perfect Christmas learning and educational toy gift for teens and adults.
As the demand for programming skills continues to rise, appropriate initiation will be crucial, and parents should do their best to create companionship and adequate support for their children. All in all, a right gift will benefit children for life.
Collection 2019
Sale 70% Off
Title for image