Five best STEM toys for homeschooling in 2021
Posted by MAKEBLOCK ECOMMERCE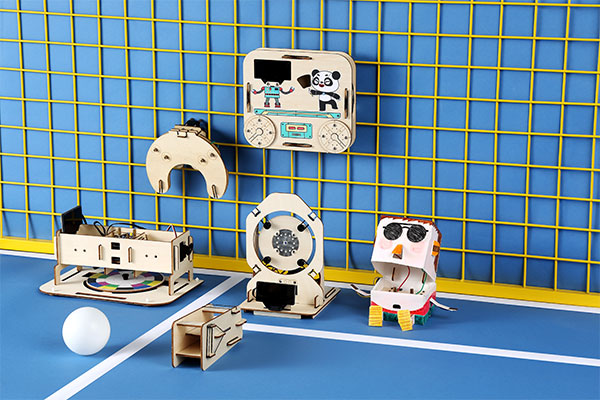 In recent years, STEM toys have become more and more essential in the market, especially for kids who enjoy playing at home or attending school at home.
STEM (Science, Technology, Engineering, and Mathematics) toys can help kids develop a wide range of skills, from critical thinking and problem solving to basic knowledge of engineering and scientific methods. Learning through play at home, especially during the pandemic, is a great way to do this.
Without attending school, kids can learn scientific knowledge at home, by doing hand-working which is helpful for building hand-made ability for them. Stem knowledge can not only help children achieve great academic but also helps them develop basic learning skills. These skills include critical thinking, creativity, and scientific literacy. Stem learning can even help children become more resilient.
But people may feel overwhelmed when they need to choose these Stem toys for their children in life. We pick these Stem toys for parents in this article, and you can not miss them!
mBot is definitely a good choice for kids who study at home. Sin ce they can learn science and maths through the easy-linking module. By building the robot with their own hands and following the clear instructions of mBot, kids can learn more about components, electronic parts, and robotics. What's more, kids can choose pink/blue mBot by themselves! Ages 8+
2.Coding Puppy Critters
Kids will learn coding knowledge with this screen-free toy. The little cute puppy is really cute and it can make your kids have more interest in simple coding games. In the process of taking care of their own puppy, they will have fun and be interested in coding. Ages 4+
Kids are always so addicted to mTiny for its attractive appearance and lovely sounds. What is more, it is easy to use, with different levels of games for your kids to explore a new world. In this process, he/she can learn and discover coding knowledge. There are various playing and learning approaches for kids to explore through using the mTiny, they can also play with their friends! Their curiosity and creativity will be largely improved. Ages 4+
Ranger is a Robot Tank, a Self-balancing Robot, also a racing car in one set. Kids can use coding skills to control Ranger via the app. They can also play with their friends or pets, holding an exciting game between them, Ranger could perform well! While playing with Ranger, your kids can understand Scratch & Arduino C to program, then they can find more ways to play with Ranger! Ages 10+
Nextmaker is a monthly box for kids who want to learn coding skills in the long term. It will bring you different surprises every month! With a curiosity to learn Stem, kids can be motivated by this super cool monthly box. What is more, they can contact these scientific materials step by step, and no coding skills are required. Nextmaker can inspire your kids' creation from zero to coding hero! Now, subscribe Nextmaker for monthly fun! Ages 6+
Collection 2019
Sale 70% Off
Title for image